---
---

The sable antelope is an African antelope found in the savanna biome. It appears in the first Zoo Tycoon game as a downloadable animal. A subspecies, the Giant sable antelope is featured in Zoo Tycoon 2 as part of the Endangered species expansion pack.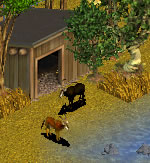 In Zoo Tycoon (Xbox)
The Sable Antelope is an adoptable animal in Zoo Tycoon (Xbox).